Healthy Cooking on the Cheap: Leftover Makeovers

By Jenna Weber
Clean out your fridge this week with three delicious meals that utilize leftovers! Extra cooked rice, potatoes, beans and cheese go into these meals, making them not only incredibly tasty but also economical. Enjoy!
Grocery list
brown rice
4 eggs
snow peas
2 green onions
1 large sweet potato
1 quart milk
maple syrup
2 red bell peppers
2 cups raw shrimp
sesame oil
6 oz. bow-tie pasta
1 large bunch Lacinato kale
2 chicken sausage links
2 cloves garlic
cooked black beans
feta cheese, crumbled
fish sauce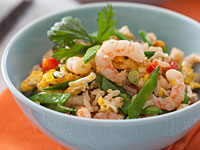 Shrimp Fried Rice
A quick and delicious way to use up leftover rice!
Serves 4
about 2 cups of cooked rice, preferably from the night before
2 eggs, lightly beaten
1 tbsp. oil (I use canola at home)
1 handful snow peas, thinly sliced on a diagonal
1 green onion, minced
1/2 red bell pepper, small diced
2 cups raw shrimp, peeled and deveined
1/2 tsp. sesame oil
1 tbsp. fish sauce (or to taste)
1. Heat the oil in a large skillet or wok over medium-high heat. Once hot, add the eggs and lightly scramble until almost done. Scoop eggs out and place in a small bowl on the side.
2. Adjust the heat to high, and add the scallions, snow peas, bell pepper, and shrimp to the pan. Saute briefly until shrimp are pink and curled.
3. Add rice, scrambled eggs, sesame oil and fish sauce to the pan and toss together. Serve.
Next page: Pasta with Beans, Kale and Sausage