Healthy Cooking on the Cheap: Butternut-Squash Gnocchi, Kabocha-Squash Curry, and Crock-Pot Lentil Soup

By Jenna Weber
Dust off your slow-cooker this week! Stir up delicious Crock-Pot lentil soup, full of nutritious vegetables and sweet potato chunks. Add some crusty bread and you'll have a tasty fall meal that will keep you warm as temperatures dip. Also this week, experiment with squash! Try a bright-orange kabocha squash in a spicy Thai curry with chicken and vegetables, and then make your own Italian takeout with butternut-squash gnocchi. You'll never believe how easy it is!
Grocery list
1 large butternut squash (about 2 1/2 to 3 lbs.)
1 egg
Parmesan cheese
1 large kabocha squash
1 chicken breast
1 red bell pepper
2 kaffir lime leaves (check your local Asian market for these)
6 Thai basil leaves (check your local Asian market for these too)
Red Thai curry paste (not sauce)
1 can (15 oz.) coconut milk
Fish sauce
2 red Thai chilies
Jasmine rice
2 large carrots
2 celery stalks
1 onion
1 large sweet potato
1/2 lb. green beans
1 bag green lentils
Fresh rosemary
Bay leaf
Dried oregano
2 garlic cloves
1 can (15 oz.) diced tomatoes
32 oz. vegetable broth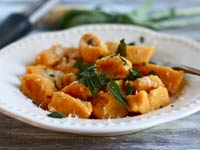 Homemade Butternut Squash Gnocchi
Gnocchi is easily made at home! I love mine tossed with butter and Parmesan cheese for the ultimate comfort meal.
Serves 6
1 large butternut squash (about 2 1/2 to 3 lbs.)
2 1/4 cups flour (plus additional for rolling out gnocchi)
1/2 tsp. salt
1 egg, slightly beaten
Parmesan cheese, butter, or alfredo sauce for serving
1. Preheat oven to 400 degrees. Peel and slice squash and roast on a lined baking sheet for 30 to 40 minutes until very tender. Remove and let cool.
2. Once cool, puree squash in a blender or food processor, then transfer to a large bowl and add flour, egg, and salt. Mix until a dough forms, and then knead on a heavily floured surface until smooth.
3. Bring a large pot of water with a pinch of salt to a boil.
4. Divide gnocchi dough in half and roll each half into a large, thin rope. Cut the rope into 1-inch slices. Once water is boiling, drop gnocchi in and boil until they float. Drain the gnocchi and serve with either melted butter and Parmesan cheese or a creamy alfredo sauce.
Next page: Thai Red Curry With Kabocha Squash
Incoming search terms:
healthy butternut squash gnocchi
healthy butternut squash gnocci
slow cooking kabocha squash in crock pot