This super creamy pumpkin sauce is made easily with just 6 pantry staples, in under 20 minutes! Pour over melt-in-your-mouth, soft potato gnocchi and garnish with Parmesan and fresh sage for a delicious, elegant meal that's easy enough for weeknights.
This is a sponsored post written by me on behalf of KraftRecipes.com. As always, all opinions are my own.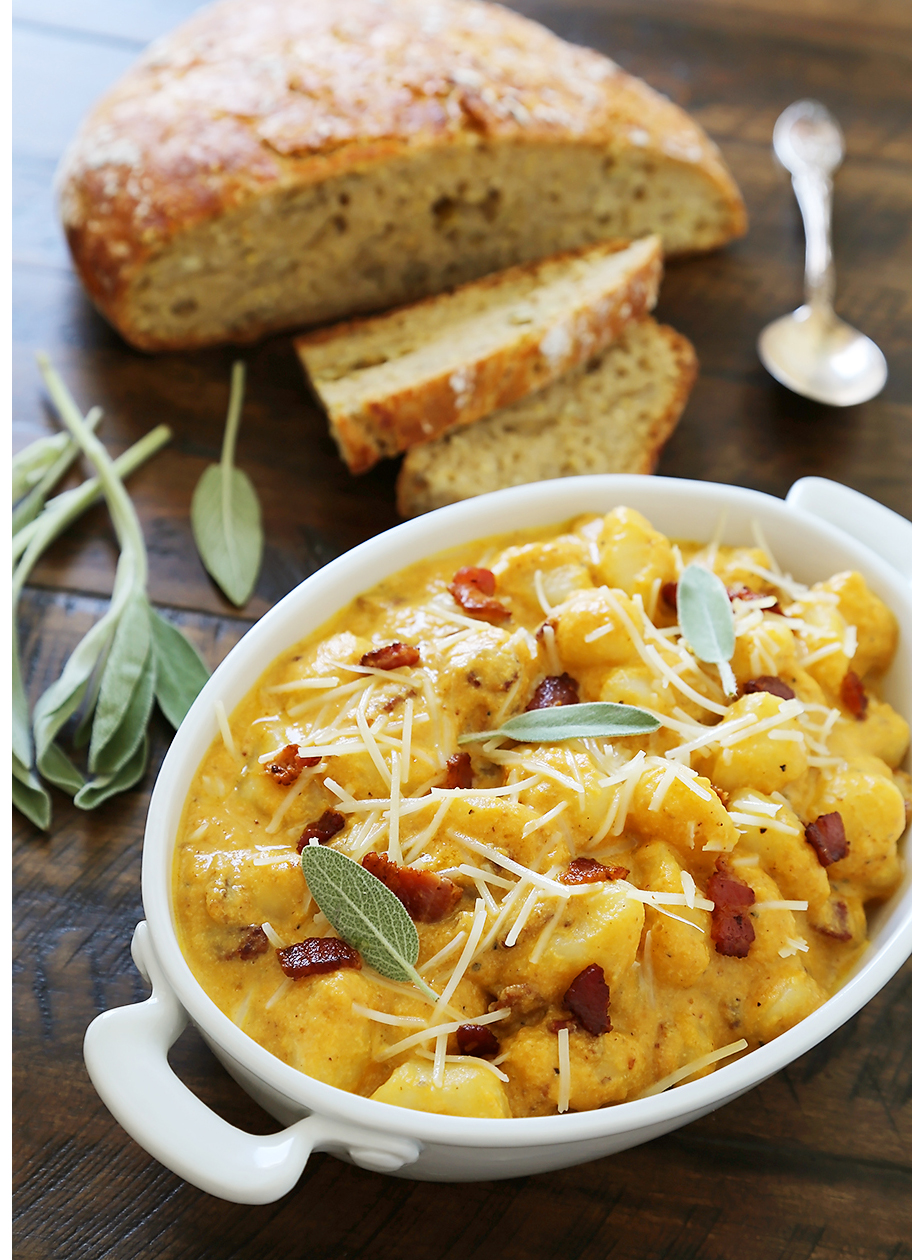 For many years, I snubbed gnocchi after having a poor experience at a Boston restaurant. Each dumpling was hard and chewy, with a sauce surrounding it and not sunken in, landing like miniature bricks in my belly with each bite. What should have been pillowy-soft, mouthwatering parcels of potato, flour and egg were… less than desirable. I was put off.
That is, until I was dining with a friend who ordered a gnocchi dish at a newly opened restaurant in Austin. It was the winter of 2011, and it turned my world upside down. Served in a smooth gorgonzola sauce with crispy bacon and shavings of Parmesan, draped over deliciously soft dumplings, it was heaven on a plate. I was in love. And convinced I needed to let a little more gnocchi love into my life.
Since then, I have enjoyed pairing potato gnocchi with various sauces – basil pesto, creamy roasted red pepper, and now, our new favorite in this house… a velvety pumpkin puree sauce with bacon, Parmesan, fried garlic and fresh sage. Irresistible on a chilly fall night, and simple enough to cook for weeknight dinners.
Continue reading: Gnocchi with Pumpkin, Bacon and Sage Sauce