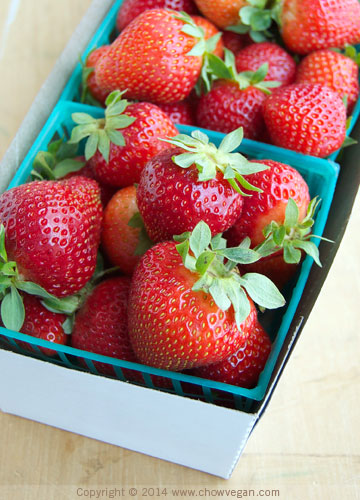 Lately, I've been on a fresh strawberries binge. Ever since Tomatero Organic Farm started selling their strawberries at the farmer's markets. They usually have a few different varieties available, you can sample them all to see which one you like the best.
So with all of this strawberry eating, a collection of green baskets and paper boxes started piling up in the kitchen. That's how I got the idea to turn the lovely 3-pack of strawberries above into the below Minecraft Creeper piñata.
---
For those of you who don't live anywhere near Palo Alto, California, you might want to turn away and not read any further. Continuing on may very well result in a little sad face.
Okay, don't say I didn't warn you.
---
Eating out as a large family is a constant challenge with everyone's likes and dislikes, will eat and won't eat. But now we have a new favorite for when we're all together down on the central California coast, where there's something good for everyone, Giuseppe's Cucina Italiana in Pismo Beach.
When it was first suggested as a dining option, I didn't have much hope but called the restaurant anyways to ask about menu options that can easily be made vegan. I was delighted to hear that any of the salads can be made without the cheese and that the pizza dough is vegan.
---
It's past the mid-year point and well past the time most New Year's resolutions have fallen by the wayside. Me? I'm still going strong on my resolution to try every cupcake flavor from the vegan bakery, Sweet Aha! And not just the cupcakes, I've extended the goal to encompass everything that's available including the muffins, scones and cookies.
Bet you thought I couldn't keep such a resolution and that I would crack under such decadence. But no, I'm a trooper and so far I've stuck to it and with going to the gym regularly so I can keep up with the resolution. Experts say accountability is the key to reaching your goal. So here goes, the latest flavors I've tried:
---
While my sister was away on holiday, I raided her backyard garden. Because I'm a pirate and that's what pirates do. Arrrr! That's pirate talk for "I like vegetables."
Back in the kitchen with my loot, I made a simple pasta dish so that the freshly picked from the garden tomatoes and basil can really shine. It's so simple and easy, a recipe is hardly necessary.
---
Is it bad to eat nothing but bread for lunch? And for dinner too? This is what happens when you get a loaf of bread from Manresa, a Michelin two-star restaurant in Los Gatos, California.
Dubbed the Manresa Bread Project, they've been selling their restaurant bread at the Campbell farmer's market. And they recently opened up a booth at the California Avenue Palo Alto farmer's market. I've seen the long lines and thought "What's that all about?" But loaded down with fruit and veggies for the week, I had no desire to wait in line to find out.
Incoming search terms:
manresa bread project healthy
---
Roasting is still my favorite way to prepare tofu. It's super easy and relatively quick as there's no need to press the tofu before using it. I've already combined it with buffalo sauce, pesto sauce and black bean sauce. Today, it's teriyaki.
Before doing anything else, get the rice going in the rice cooker (if serving with rice and if you have a rice cooker otherwise ignore this part). While the rice is cooking, prep the tofu for the oven.
---