September was quite the month of decadence with me trying out as many vegan birthday freebies as I could. Turns out I only had time to get to just a few of them. Unsurprisingly, I made sure to hit up some of my favorite spots first.
Since they open at 9am, first up is a vegan red velvet cupcake from Sprinkles. It's still the one and only vegan option available. To get it, join their birthday club and on your b-day, you'll get a email for a free cupcake that's only good on your actual birthday. They will ask to see your id.
---
Guess what? We're going for a visit today! I'm so excited to be guest blogging over at vegan miam, one of my favorite blogs. Rika + Doni travel the world over searching out the very best in vegan eats.
From Paris to Thailand and points in between, they make me want to pack my bags and hop on a plane. Back home in Oregon, they cook up delicious meals such as Gochujang Tofu Pickled Cucumber Bowl and Taco Beer Flatbread Pizza with Roasted Corn Poblano.
---
I finally got around to eating at the Veggie Grill in Mountain View that opened earlier this year. I've been down to the Southern California one in El Segundo a few years ago. I loved it then and I still love it now. In the interim, they've expanded their menu and they have a number of interesting new items.
Buffalo Wings, while good (I think they're just Gardein Chickin'), weren't quite as exciting as the below cauliflower bites.
---
Have you ever tried cooked lettuce?
No?
You're probably thinking, no way, it'll be like when the lettuce leaf on a hamburger gets all warm and limp. Yeah, I don't like that on my burger either. But what I'm talking about is cooking lettuce on purpose. Stir frying lettuce Chinese style.
While the cooking brings out the sweetness, the lettuce ribs retains some of its crispness. In Chinese cooking, there's hardly any food that's raw.
---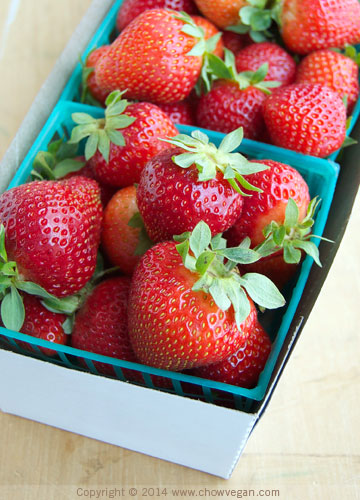 Lately, I've been on a fresh strawberries binge. Ever since Tomatero Organic Farm started selling their strawberries at the farmer's markets. They usually have a few different varieties available, you can sample them all to see which one you like the best.
So with all of this strawberry eating, a collection of green baskets and paper boxes started piling up in the kitchen. That's how I got the idea to turn the lovely 3-pack of strawberries above into the below Minecraft Creeper piñata.
---
For those of you who don't live anywhere near Palo Alto, California, you might want to turn away and not read any further. Continuing on may very well result in a little sad face.
Okay, don't say I didn't warn you.
---
Eating out as a large family is a constant challenge with everyone's likes and dislikes, will eat and won't eat. But now we have a new favorite for when we're all together down on the central California coast, where there's something good for everyone, Giuseppe's Cucina Italiana in Pismo Beach.
When it was first suggested as a dining option, I didn't have much hope but called the restaurant anyways to ask about menu options that can easily be made vegan. I was delighted to hear that any of the salads can be made without the cheese and that the pizza dough is vegan.
---