Archive for June 9th, 2012
By Olivia Rassow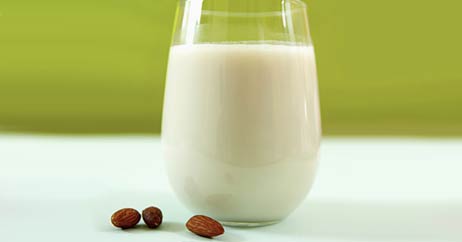 With a slew of reasons from dairy allergies and intolerance to lactose, to an interest in healthier, more environmentally friendly drinks, there seems to be a new variety of milk around every grocery store isle. But if you have no personal or nutritional preferences, do you really need to make the switch from plain ol' cow's milk? And if you do have dietary restrictions, which is the right substitution for you? To break it down, one 8-ounce glass of 2% cow's milk has 120 calories and 4.5 grams of fat. This traditional type contains several important nutrients, including calcium for strong bones and protein for lean muscles, so be sure you still reap all those great health rewards.
What you should know
Alternative milks are free of lactose and casein, a protein that can disagree with many stomachs. Most types have less sugar (though some options may taste sweeter), fat and calories than cow's milk (skim is an exception), and many are fortified and enriched with extra nutrients. Some of these new options can taste similar to the milk you're familiar with, while others will take on an entirely different flavor. Experiment with your taste buds and tummy by dunking an Oreo and topping your cereal with any of these varieties. Note: Nutritional information based off of one, 8-ounce glass, but remember that different brands may vary, so be sure to check the label!
---
Andrew Scrivani for The New York Times
---
I haven't had a chance to eat at Lyfe Kitchen in Palo Alto but they already have their own line of packaged food, available at twenty select Costco locations throughout Northern California. None of the entrees are vegan but two of the soups are – the Smoky Tomato Bisque with Spicy Herb Croutons and the Sweet Corn Chowder with Smoky Chipotle Croutons (a top seller at the restaurant). I got to sample both and bought the chowder home.
It's a nice chunky chowder with good flavor and not too salty. However, I did have to overlook the very subtle taste of red bell peppers. Not my favorite vegetable by a long shot yet somehow I can taste whenever it's in food (isn't that how it always is?).
Incoming search terms:
healthy foods from costco
vegan nuggets costco
vegan foods at costco
costco vegan food
vegan food at costco
cooked tofu costco
vegan food costco
vegan at costco
tofu at costco
spicy yuba strips
---
Yukgaejang g is korean soup made with beef and vegetables. It's hot and spicy. Koreans love this soup especially in the winter time. full recipe: www.maangchi.com Ingredients: 1 Lb of beef brisket, half an onion, water, 12 green onions, 5 cups of bean sprouts, fern brakes (kosari), 1 stalk of celery, garlic, hotpepper flakes, sesame oil, vegetable oil, salt, soy sauce, and black pepper Directions: 1. In a big pot, add beef brisket, 14-15 cups of water, and half an onion, then boil it for 40-50 minutes over high heat. 2. Cut the green onions, celery, and fern brakes (kosari) into pieces about 7 cm in length. Put them all into a big bowl. 3. Put 3 tbs hotpepper flakes, 1 tbs of sesame oil, 1 tbs of vegetable oil, 1 tbs soy sauce, 1 tbs of salt, and some grounded black pepper into a small bowl and mix it. This is your hotpepper oil sauce. 4. Put the hotpepper oil sauce into the vegetables mixture and mix them all up. 5. When the beef is well cooked, take it out and set it aside to cool down. 6. Add the mixture of vegetables and hotpepper oil sauce into the boiling beef stock. Boil it for 20-30 minutes. 7. Slice the beef thinly and add it into the boiling soup. Cook it about 5-10 minutes more. Serve with rice. Enjoy it!
---
As the Farm Bill undergoes review in Congress this week, leading food writers, chefs, farmers, and educators are joining together to make their voices heard.
On behalf of the IIN blog team, I joined in the debate, attending at a panel discussion at New York University with esteemed leaders in the fields of food and nutrition. Paraphrased below are their insights into the far-reaching effects of the Farm Bill and its impact on the health of Americans.
Access to Healthy Food and Culinary Education

Tracie McMillan, author of The American Way of Eating
---